Urban Partnership Drug Free Community Coalition
(UPDFCC)
Urban Partnership Drug Free Community Coalition
(UPDFCC)
Who we serve
High-risk neighborhoods
Where
North Miami/Little Haiti and Liberty City
What we do
A coalition dedicated to the reduction/prevention of youth substance use/abuse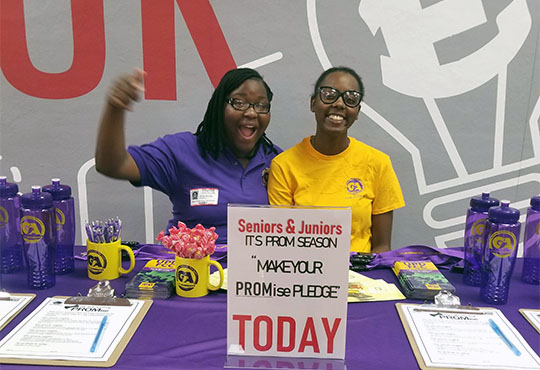 Collaboration is at the heart of Gang Alternative, Inc.'s work. Partnering with organizations and individuals that share our passion for preventing and reducing substance use in youth in South Florida falls under one of our Five Pillars of Service, Community Upliftment and Partnerships. UPDFCC has operated since 2010 in Miami-Dade County. When we work with others and share ideas, we see and understand how people work, think, negotiate and operate.
Our primary goal is to reduce underage drinking and marijuana use. We do this by meeting monthly to discuss and implement strategies to change the social norms in the community and empower youth to lead healthier lives for brighter futures.
UFDCC is made up of 12 sectors: youth, parents, media, schools, business, youth-serving organizations, law enforcement, civic or volunteer, religious or fraternal organizations, healthcare professionals, substance abuse agencies and state or tribal government agencies in the field of substance abuse.
Participation by all these sectors is vital so there are a variety of opinions and strategies with a wide range of experiences. We believe there is strength in diversity and value different approaches to reach various audiences.
We raise awareness with youth in multiple ways. One is our Youth Frontliners Coalition (YFC). The YFC is a youth-led/adult-guided movement where middle and high school students are taught skills to help educate other youth within their schools and communities.
UPDFCC is funded by SAMHSA and has joint meetings with the Urban Partnership for Success Collaborative-Miami (UPSCM) on the third Thursday of the month.
Have a question about this program?
Our Policy Coordinator would be more than happy to contact you.
contact Valoria Thomas